Watching Sports Online is Awesome
I have to say, being a sports fan is a millions times easier, and dare I say better, than it was just 10 years ago.  Think about it.  Google was still operating out of a dorm room then, ESPN still had just one channel, and if you wanted to watch a Lakers game from the East coast you stayed up past midnight.  Now there's almost real time news (thanks to Twitter and blogs), ESPN has a million channels and a website for every major city, and you can watch last nights Lakers game the next morning, or a week later.
Oh, you need examples?  Just a few months ago I wrote about how great the online coverage of the Masters was.  Interactive scoreboards, live streaming feeds from "Amen Corner", and of course non-stop coverage of Tiger Woods's return to the golf world (I refuse to say "after his off the course scandals" as every other outlet has.  Um, yeah, we flipping know!).
How abo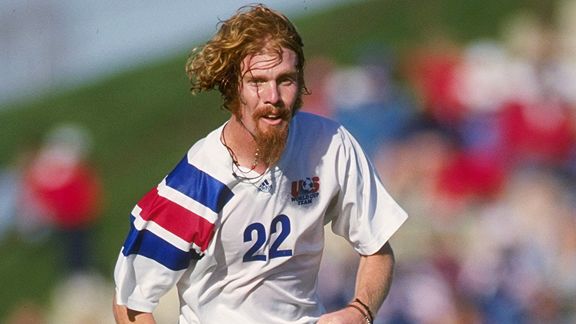 ut the World Cup?  The planet's biggest sporting event.  Just take your pick.  Live scoreboards from every media outlet worth a damn.  Free streaming coverage of every single game on ESPN3.com, plus Telemundo, and 68 other non-English speaking websites, which actually made for an interesting viewing experience.  I would rather listen to some short French guy talk than Alexi Lalas.  I mean come on, the guy made Pauly Shore look good.
I digress, but seriously.  Look at the guy.  Sorry.  Oh, and the World Cup coverage made the leap to a third screen, the mobile phone.  World Cup apps were selling like hotcakes.  Assuming you're in a pancake house with thousands of hungry professional pancake eaters.  Hell, everyone I know that had an iPhone actually bought some version of the vuvuzela application.  This particular app might take the cake for the most annoying download EVER.  Of course, there are still those fart soundboards.  Wow, I digressed twice in one paragraph.
Oh, you need more proof.  Did anyone else watch the first two rounds of the US Open on their computer at work, all day long?  I have a feeling I'm not the only one.  Once again, there was an interactive scoreboard that allowed me to follow my favorite players, extensive player bios, and of course live streaming video.  I watched Phil Mickelson struggle around the course in the morning, and Tiger Woods struggle in the afternoon.  Every single hole they played, every single shot they took.  That's a very expensive ticket to get, and I was comfortably sitting at my computer, wishing I was playing golf.
And even local news sources are getting in on the awesome sports coverage.  The Chicago Blackhawks celebrated their first Stanley Cup since 1961 (no Cubs streak, but a solid winless tally nonetheless), and boy was it a party.  Of course, I couldn't attend.  BUT, I did have a seat on the bus courtesy of the local news stations.  I watched the rally on the computer while looking out over the crowd on Michigan and Wacker, in the air conditioning.  Which turned out to be a pretty solid decision actually.  But I didn't miss a second.
And that's just the tip of the iceberg, Wimbledon, the Tour de France, the LeBron James ego party.  The list goes on and on.  Sports fans now can follow their favorite players on Twitter.  Hell half the NBA was fined for tweeting during a game.  And if you wanted court side seats, follow the Kardashian sister on Twitter.  You know, the dumb one, er, the one that's had all the plastic surgery, um, wait, the tall one married to Lamar Odom.  There you go.
I have confirmed that I am an official information junkie.  And that's mostly because it's so friggin easy to be one these days.  Carlos Zambrano punched a hot dog vendor?  Patrick Kane cross-checked a little old lady crossing the street. Rex Grossman was seen beating on empty paint cans outside of Niketown on Michigan.  Awesome! Keep it all coming.
And to be honest, I think all of this information has led to more rabid fans as well.  We are more entrenched in the lives of our favorite athletes than ever before.  We have a look into their lives that gives these heroes (and I use this term loosely) a more personal side. They are no longer nine feet tall.  They're having trouble lighting their grill too! Hell yeah, I couldn't get my Weber going either!!! See Kobe and I have the same issues, he's alright.  So now, as a fan, I have more invested in individual players.  I no longer have to wait til midnight to see Magic and the boys play my Celtics, and I even know what Ray Allen had for his pre-game meal.
I understand the argument that in the past, people waited an entire week to see Bo Jackson on the field again.  And that built up my anxiety and team spirit.  But I argue that I can now know what Bo Knows.  And I like it a lot!
Tags: digital sports, online sports